Welcome to the Shacklewell Mutual Aid newsletter. We'll send one once a week updating you about what we are doing and how you can get involved.
Mutual aid connects neighbours who need support in the COVID-19 crisis with neighbours who want to volunteer. We're helping people in and around the Shacklewell ward in Hackney, East London. You can find out more on our website at www.shacklewell.uk
Food bank
Franki, Sol, Vas and Celine have been working out how we can help food banks in our area. We've decided to encourage everyone to give items to the Hackney Foodbank supported by The Trussell Trust. They collect food at the Safestore office at 2 Somerford Grove, it's just off Stoke Newington High Street. You can find out what they need and their opening hours on their website. To donate, just walk through the blue drive-in entrance to the office where someone will take your parcel.
You can even contact us to collect the food you want to donate. The details of what they need (and what they don't) are on their website at hackney.foodbank.org.uk/give-help/donate-food/
Here's the poster with all the details: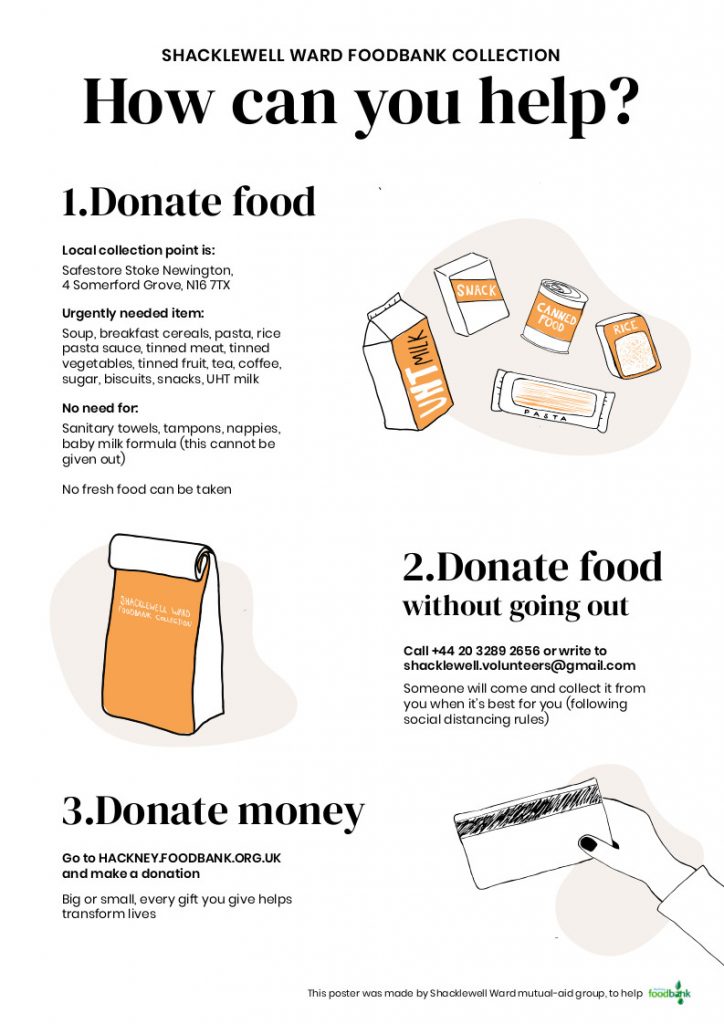 Digital Activism in Time of Pandemic
Anastasia, one of our members, took part in a webinar about digital activism where she presents with other people about how people are using digital tools during the pandemic. Her segment talking about mutual aid groups and how they differ from top down volunteering efforts starts at 12.15.
Big Community Sew
The Big Community Sew has great instructions on how to get started making facemasks. Take a look at bigcommunitysew.co.uk
Renter protections
The London Renters Union have launched a campaign for people who are worried about paying rent during the pandemic and those who want to help them. You can find out more at cantpaywontpay.uk
Summary
If you want to get involved or have an item for the newsletter then please get in touch on the WhatsApp group or by email. We hold a weekly video call on Sunday evenings which everyone is very welcome to join. Find our contact details on www.shacklewell.uk